The Broseley Local History Society
<![if !supportEmptyParas]> <![endif]>
Incorporating the Wilkinson Society
<![if !supportEmptyParas]> <![endif]>
Newsletter                                                                  March 2002
<![if !supportEmptyParas]> <![endif]>
Chairman                      John Freeman                           Treasurer          Steve Dewhirst
Secretary                      Dot Cox                                    Curator             David Lake
Newsletter Editor          Jan Lancaster                           Journal Editor    Neil Clarke
Co-opted Member         Michael Pope
Membership Secretary   Janet Robinson
                                    26 Coalport Road
                                    Broseley, TF12 5AZ
                                    01952 882495
Website:  www.broseley.org.uk                                      Email:  steve@broseley.org.uk
<![if !supportEmptyParas]> <![endif]>
Meetings
Meetings of the Broseley Local History Society are held on the first Wednesday of each month at 7.30 pm.  Venue is the Broseley Social Club, High Street, unless otherwise announced.  Car parking is available at the back of the Club.  Members are requested to be seated by 7.30 to allow speakers a prompt start.
Programme
Apr      Janet Doody will be talking on The Irish Community in Broseley in the second half of the 19th century.
1 May   The Annual Wilkinson Lecture.  The Spirit of the Age - John Wilkinson's Cultural Background, given by Diana Clarke.
5 Jun    Jubilee Summer Soiree, at Rivendell, 2 Dark Lane, Broseley, by kind invitation of Michael and Gillian Pope.  Please see details on page 5.
3 Jul     The Wilkinson Trail in Telford - Part II.  Summer walk led by Neil Clarke.
For further information, contact Neil Clarke (01952 504135).
Previous meetings
Since the last Newsletter we have had both a very enjoyable Christmas dinner as well as several extremely interesting meetings. 
Perhaps more in keeping with the true spirit of Christmas, Dave Shinton's talk at the dinner was not on Inns and Alehouses, but on the churches in the parish of Broseley.  His reputation as a speaker had apparently gone before him, bets on the length of his speech being quickly offered.  Stopwatched at 20" 24', winner Geoff Bird said he would be giving his winnings to charity.
More Memories of old Broseley at the January meeting took a stroll down King Street, past the site of the Cape of Good Hope pub and on to the Burnt House, so named because of the fire which partly destroyed it in 1883.
Further on, where there was once an area of shops and local industry which included a button factory, one of the few industrial buildings left today is Capacity Engineering.  This particular concern must have been established at least 90 years ago since it was involved in doing war work during the First World War. 
Further on still, the old Broseley Pipeworks now form part of the Ironbridge Museum circuit, while almost opposite is an old butcher's shop faced inside and out with a colourful display of Broseley tiles.
Perhaps most interesting of all was the reason given for the haphazard numbering system of this particular street - apparently the buildings were simply numbered in the order in which they were built!
Transcripts of this and earlier Memory evenings may be ordered from Janet Robinson at Society meetings at a cost of 50p per copy.
In February Ron Miles, with his slide show entitled Both sides of the River, gave a fascinating picture of life in both Broseley and Ironbridge over the last 50 or so years.  Newcomers to the area must have been amazed at how much industry there used to be during this period and how much evidence of this there still is to see if you look hard enough.
At the March meeting Alf Jenkins, who was born at Clee Hill and whose parents kept a pub there, gave us a fascinating account of life in the old days in that area.  Alf has been researching the parallels between the respective developments of Clee Hill and Broseley.
Diary dates
Local History Week 4-11 May
As their contribution to Local History Week, the Friends of Shropshire Records and Research will be holding a Conference at Shire Hall, Shrewsbury, on Saturday 4 May from 10.00 am-4.00 pm.  Talks by Malcolm Wanklyn (10.15 am) and Madge Moran (2.00 pm).  There will also be displays by local history groups.
Wrekin Local Studies Forum will be staging a presentation of displays of local history groups at Telford Town Centre on Saturday 11 May from 10.00 am-4.00 pm.
Broseley Local History Society will be represented at both these events and admission is free.
William Reynolds Bicentenary 2003
William Reynolds, the east Shropshire ironmaster, scientist, inventor and canal builder, died on 3 June 1803.  To celebrate the life and achievements of this remarkable man on the occasion of the 200th anniversary of his death, the Wrekin Local Studies Forum is sponsoring a number of events in June 2003.  These events will be centred on the Long Warehouse, Coalbrookdale, by kind permission of the Ironbridge Gorge Museum Trust.
An exhibition of documents, maps and artefacts associated with Reynolds is being planned by John Powell (Librarian, IGMT) and Tony Carr (Shropshire Records and Research).  This will open with a wine and cheese reception and will run from Tuesday 3 June to Sunday 15 June, 2003.
A conference is being organised for the weekend of 14 and 15 June.  On the Saturday contributors to a series of illustrated talks on various aspects of Reynolds's life and achievements will be Barrie Trinder (overview), John Brown (the ironmaster), Hugh Torrens (scientific and technical interests), Ivor Brown (tunnels), Paul Luter and Neil Clarke (tub boat canals) and Marilyn Higson (origins of Coalport).  On the Sunday there will be a tour of buildings and sites in the Telford area associated with Reynolds.
It is hoped to produce an exhibition catalogue and to publish the proceedings of the conference.
These arrangements are provisional and final details will be available within the next few weeks.  The purpose of this advance notice is to enable you to book the date in your 2003 diary!
Neil Clarke
Stephen Perry
A tribute by Neil Clarke
With the tragic death of Stephen Perry of Madeley the Society has lost a knowledgeable and well respected member.  Stephen died on 22 January following an accident while cycling home from work on the previous night.  On behalf of the Society, I contacted his family to express our condolences and also attended the funeral at St Andrew's Church, Shifnal.
Stephen was well known in the Telford area as a campaigner for environmental issues; he was coordinator for Telford Friends of the Earth and spokesman for the local branch of the Cyclists Touring Club.  A committee member of the Friends of the Ironbridge Gorge Museum, he was particularly expert as a volunteer guide at Coalport China Museum.
<![if !vml]>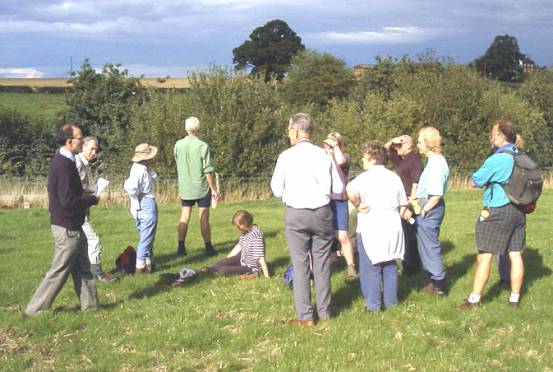 <![endif]>
Stephen Perry, far left, showing members of the Society around the Caughley site during a field trip last summer
We got to know Stephen as a result of his interest in the history of the Caughley China Works.  Many of us will remember the walk he led round the Caughley site on a beautiful evening last summer, following the publication of his article on Caughley in the Society Journal No 22.  Stephen followed this up with an article explaining a possible working link between Thomas Turner of Caughley and John Wilkinson, which was posthumously published in the Society's current Journal.  As editor, I can reveal how meticulous Stephen was in researching and presenting such material, displaying the same enthusiasm we saw at Caughley last July where he had painstakingly taped out at the site the outline of the China Works for us all to appreciate its extent more fully.
The plaque which the Caughley Society are unveiling to mark the site will be a poignant tribute to Stephen and his work.
Talking to the neighbours
Two of our more prominent members, Neil Clarke and David Lake, were last year invited to speak at the AGM of the South West Shropshire Historical and Archaeological Society.  David Lake reports on their experience.
Broseley is a remarkable town, and so it is appropriate that it has a remarkably flourishing Local History Society.  Bishops's Castle is also a town that seems remarkably able to punch above its weight.  The South West Shropshire Historical and Archaeological Society has been aware of our success through the Shropshire History network on which Neil Clarke represents us, and so we were invited to be the speakers at their AGM last November.
Neil described the broad picture of how we work, our origins in the Wilkinson Society and the effectiveness of our change of name to include "Broseley" but with the retention of our strong interest in John Wilkinson.  He also stressed our avoidance of unnecessary form-ality, our Treasurer's diligence in controlling costs and the need to keep subscriptions affordable.
I then described our Memory Meetings which were the result of a suggestion by Frank Selkirk.  These meetings have proved very popular with members and have occasioned remarkably vivid accounts of bygone times.  They have also brought together both longstanding and more recent Broseley residents.
There was a strong flow of questions from the very good audience and there is the pleasant possibility that friends from Bishop's Castle will come to some future meeting of our Society.
Mystery of the Iron Bridge
Many of you will have watched with interest the recent programme by Timewatch on the construction and erection of the Iron Bridge.  Many of you will also have shared immediate past Chairman Frank Selkirk's concern at some of the perceived inaccuracies of the programme content.  Following the showing of the programme, Selkirk wrote to the Programme Director of the Ironbridge Institute, David de Haan.  This a slightly abridged version of that letter.
I suppose, as many, I watched the 'Mystery of the Iron Bridge' with a growing sense of disbelief:  where on earth had the Timewatch team got their history from?  Surely there can only have been a minimum of research, I thought?  But now, looking at the website, it would appear that they blame you!
The ironbridge designed by Darby?  Not Pritchard?  Financed and conceived by young Darby?  Without the financial and knowhow input and the enthusiasm of such as Wilkinson, Onions and Guest?  Built at the Bedlam downstream, and not in some of the much more convenient furnaces?
And surely the design was based on that of a wooden bridge, and thus the construction techniques would have been largely similar to those well established for wooden structures?
The trouble is that, whilst a lot of people know that it was an absolute historical travesty which was given out, I have spoken to others who did not know that the 'history' being used was not history but publicist's myth.
In his reply, de Haan said that in 1999-2000 a full Survey, Record and Analysis had been done of the Bridge, and it was around this that the programme had been developed.  He had played a major part in that research, which had "generated a lot of new material and questioned some of the received wisdom of the past."  Because of time constraints, however, television programmes often over-simplified things and some sweeping statements had been made which were beyond his control.
In response to specific questions, he said that while Pritchard had produced the original design, his early death in 1777 had made it difficult to estimate his exact contribution to the project.  Since the Royal Society of Arts had awarded their gold medal to Darby for the Bridge he "would hope that as a Quaker he would not wish to claim other people's work as his own."
A considerable proportion of the cost had been financed by Darby and although Wilkinson had bought £600 worth of shares he had not kept them and it was possible that he had deliberately tried to over-expose Darby to cause the Coalbrookdale Company to fail.  Recently discovered papers had proved that he had already done this to Abraham Darby II in the 1760s.  In view of this, de Haan expressed serious doubts about Wilkinson's motives, although he had no such reservations about Guest and Onions.
While he agreed that Bedlam had not been proven as the location for casting the large components, it was much more accessible than the Old Furnace.  In addition, there may have been another site such as the Meadow Wharf.  Either was within half a mile and on the river bank, which made transporting 5.75 ton castings a practicality.  While a description in 1796 suggested that the ribs were cast at Coalbrookdale, there was archival evidence of 1785 that they may have been cast in a furnace on the river bank.  However, this hypothesis was only supported by the scale model experiment and could not be said to have proved it.
As to the design of the Iron Bridge being based on that of wooden bridges, de Haan said that research into the use of iron in building from the 15th century onwards indicated that the carpentry joints seen in the Iron Bridge were the standard method and not something new.  For example, the use of wedges, pins, mortise and tenons in metal framing had long been used in large turret clock mechanisms.  However, while these had been hidden from view, the Bridge "puts them in the open and hence attracts attention and suggestions that this is a new development."
In his reply to de Haan's letter, Selkirk questioned why Darby should have been involved at all as there was little commercial advantage to him.  On the other hand, Broseley residents may have been anxious to get their town onto the stage coach route and while they continued to have the support of Guest and Onions, Wilkinson, "deemed a bit of a commercial demon", may eventually have decided that Broseley's interests no longer outweighed the commercial advantages.
Selkirk also argued that "past wooden bridge erection, when massive and heavy timber beams were required, would have been the main guide for erection of the Ironbridge", particularly as the biggest gangs of ultra-strong rope pullers were those who claimed to have made Jackfield the main boat owning place on the River Severn.
Following this exchange of correspondence, the Society's present Chairman, John Freeman, also wrote to de Haan.  He said that while he appreciated that he, de Haan, did not have editorial control, the Timewatch programme had touched on a long standing sore point.  Although many important activities and events in Broseley had predated those on the north side of the river, Broseley people today felt that the town was being marginalised when it came to the 'tourist packaged version' offered at the museum sites.
This perception had recently been reinforced when Freeman spoke to an old friend with whom he had served his apprenticeship at GKN's Westland Helicopters in Somerset.  This gentleman, now Programme Manager of the Army Apache Helicopter Project, often had to give talks to professional bodies in which he included a brief background of GKN's history.  It was only as a consequence of his recent conversation with Freeman that he had realised that John Guest had participated in the Iron Bridge project, and that his company, of which Guest was one of the founding fathers, had been involved in leading edge technology from the late 18th right through to the early 21st century.
Freeman concluded his letter by saying that the Society would greatly value a closer association with the Ironbridge Gorge Museum Trust and invited de Haan to come and give a talk to the Society.
John Wilkinson, Ironmaster Extraordinary,
by Ron Davies
Copies of this book, which was reviewed in the November issue of the Newsletter, are still available.  This very readable, concise account of the life of this genius of our early industry includes 24 pages of specially drawn line illustrations.  The cost of this book is £6.95 including delivery, and copies are available from David Lake, Stocking Lane, Nordley, WV16 4SY, tel: 01746 762813.  Cheques should be made payable to Broseley Local History Society.
Jubilee Summer Soiree
Venue:     Rivendell, 2 Dark Lane, Broseley
Date:       Wednesday 5 June, 2002
Time:       7.30 pm
Cost:        £3.00 per person
Michael and Gillian Pope have kindly offered to host a Jubilee Summer Soiree and have invited members of the Society to their home Rivendell, 2 Dark Lane, Broseley.  A light supper will be provided and members will be able to enjoy the garden.  This has a number of interesting features from an historical point of view, including the old water cistern which was originally built to provide a water supply for Broseley.  Cars can be parked in the car park at the top of Dark Lane.
To facilitate catering arrangements members are asked to return the form below, with their payment, to Janet Robinson by not later than Friday 31 May.
<![if !supportEmptyParas]> <![endif]>
I/we will be attending the Summer Soiree and enclose payment of £3.00 per person. 
Name(s):
............................................................................
Address:
............................................................................
............................................................................
............................................................................
Payment enclosed:  £  ....................................
Please return to:            Janet Robinson
                                    26 Coalport Road
                                    Broseley TF12 5AZ
by not later than 31 May.
Cheques should be made payable to Broseley Local History Society.