Newsletter September 1998

Chairman: Tony Mugridge.

Membership Sec.: David Lake, Avebury, Stocking Lane, Nordley, Bridgnorth, Shropshire,

WV16 4SY. 01746 762813.

Newsletter Editor: Nick Coppin, 01952 884398
Meetings take place each month on the first Wednesday of the month at 7.30pm (unless announced otherwise). Indoor meetings will be held at the Broseley Social Club in the High Street unless announced otherwise. Car parking around the back.
We would like to apologise to the membership for any misunderstanding regarding meetings. At times, both the parish magazine and the Bridgnorth Journal have carried incorrect details of our meetings. The Newsletter sent out to members contains the accurate, definitive programme. If in doubt, check with the Newsletter!
Programme for the remainder of 1998:
Wednesday 7th October: More residents remembering Old Broseley. Bring along your memories for an informal chat; followed by the AGM. See Agenda below.
Wednesday 4th November: Janet Collins, 'The Maw Company in 1904'
Wednesday 2nd December: Dinner at the Cumberland Hotel with after dinner talk by Ivor Southorn. See Menu and details below.
Broseley Local History Society incorporating the Wilkinson Society Annual General Meeting. Held on Wednesday 7th October at the Broseley Social Club.
Agenda:
1. Apologies

2. Officers' Reports

3. Election of Officers:

Chairman
Treasurer
Secretary
Committee members

4. Provisional programme for 1999.

5. Any other business by permission of the Chairman.
Broseley Local History Society incorporating the Wilkinson Society Christmas Dinner.
This will take place at the Cumberland Hotel, Broseley at 7.30 on Wednesday 2nd December.
Menu
Soup of the Day
or
Melon and mandarin
or
Fruit juice
Roast turkey
or
Beef Italian Style
or
Plaice
or
Mushroom and walnut stroganoff
(NB please order your choice of main course with David Lake by 20th November.)
Choice of sweet or Cheese and biscuits
Coffee
12.75p inc.
Numbers will be limited so please confirm if you wish to attend by telephoning David Lake on 01746 762813.
Web Site.
Thanks to Steve Dewhirst we now have a Society web site. This will contain the latest Newsletter, a membership application form, information about Broseley and the Society.
The Web Site address is: www.dewhirst.ndirect.co.uk
Email address is: blhs@dewhirst.ndirect.co.uk
Legge's Hill Pipeworks Site.
You don't always have to dig deep to unearth important archaeological remains, and so it proved when excavations took place at the former William Southorn tobacco pipeworks site at Legge's Hill.
The base of one of three kilns known to have existed on the site was unearthed just three inches below the surface. It is almost certainly one of two kilns shown on a panoramic photograph of Broseley Wood taken about the turn of the century. Items unearthed in the kiln foundations can be dated to pre 1850 so the construction obviously dates from the first half of the 19th Century, possibly back to 1823, when Southorns were established.
The three-metre diameter base was found by a group of pipeworks museum volunteers working under the on-site guidance of Dr David Higgins of Liverpool, the country's leading clay pipe expert, and Dr Allan Peacey, of Gloucester, an acknowledged authority on kilns.
The base is a substantial construction with a central bowl-shaped area a metre wide and half a metre deep. It is formed by a series of co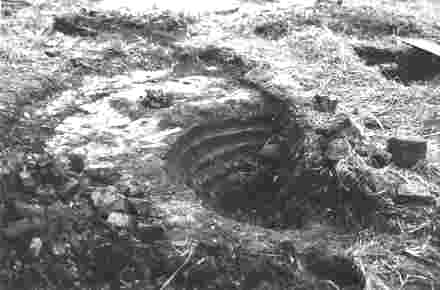 ncentric brick circles which show evidence of heat damage. Only half the base has so far been excavated and detailed measurements were taken and samples of fire ash, clinker, construction and fire bricks, fragments of kiln furniture as well as pipe shards were collected and documented. Drawings were made to record the various levels and changes of strata which were visible. A photographic record was made of the remains before the kiln was carefully reburied, protected by a polythene membrane.
A planning officer from Bridgnorth District Council agreed to inspect the remains as the excavations took place, as did the head of the Shropshire Archaeological Unit.
Various interested parties acknowledge that the site is of national, if not international significance, bein probably the site of the first, purpose-built, industrial sized pipe kiln in the world. The opportunity to uncover much more of the evidence of this early industrial site will be lost once the proposed ten homes are built — detailed planning permission having already been granted, and a JCB digger is on site. The planning permit stipulates that an archaeological evaluation must take place (although possibly only a 'table-top' exercise) before the heavy machinery moves in.
Perhaps some one knows of a source of funds which we might be able to tap into in order to buy the site as a heritage area and carry out excavations long term – we only need about 50,000.
Rex Key.
Recent additions to Broseley Local History Society artefact collection.
On a recent evening, Steve Dewhirst and I went to a house in Monewood, Broseley and collected a 21" gauge railway wagon frame, complete with wheels, a winding drum of some kind and a length of Shropshire 'rattle chain'. These have been donated to the Society for which we are very grateful.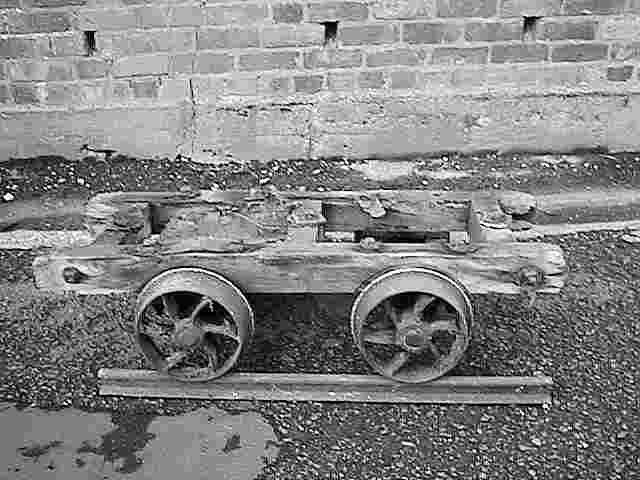 The wagon had been used to grow bulbs and flowers in but thanks to some hefty timbers and a sheet of polythene, the wooden frame was well preserved. There is a scrap of sheet steel floor but little else left of the superstructure. The wheels are curly spoked in loose, half bearings. It is reputedly from the nearby Rock Fireclay Mine and bear a resemblance to wagons used in the East Shropshire coalfield and to wagons at Blists Hill and Jackfield Tile museums.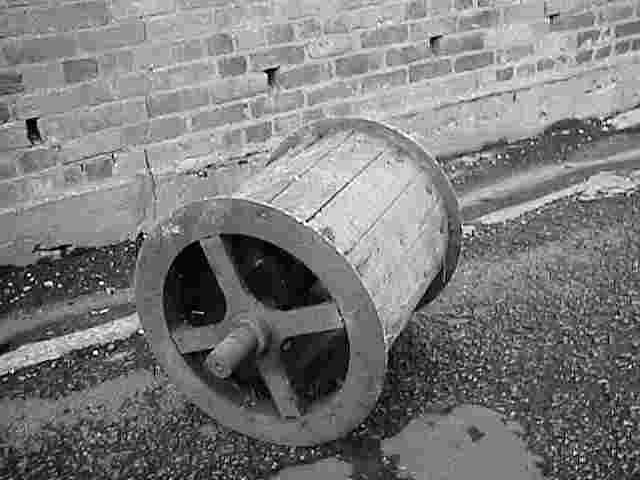 The winding drum is more a puzzle but again is similar to a picture of a winding drum at Harris's Old Park Pits until 1950. A similar drum (but larger diameter) was used on an incline on the Caldon Railway (Staffordshire).
It has cast iron ends and wooden staves bolted between the ends. There is obvious wear on one end of the wooden part.
Any members wishing to see these acquisitions should contact me.
Nick Coppin.