The Broseley Local History Society
<![if !supportEmptyParas]> <![endif]>
Incorporating the Wilkinson Society
Newsletter

                                                        

       

  

February 2001
Chairman:                                            Frank Selkirk
Secretary:                                            Dot Cox
Treasurer:                                           Steve Dewhirst
Curator:                                               David Lake
Membership Sec.:                                Janet Robinson, 26 Coalport Road,
                                                           Broseley, Shropshire, TF12 5AZ.
                                                           01952 882495
Journal Editor                                      Neil Clarke
Newsletter Editor:                                Nick Coppin, 01952 884398
<![if !supportEmptyParas]> <![endif]>
Meetings usually take place each month on the first Wednesday of the month at 7.30pm (unless announced otherwise).  Please ensure you are in your seats by 7.30 to allow speakers a prompt start.  Indoor meetings will be held at the Broseley Social Club in the High Street unless announced otherwise. Car parking at the back.
Web Site: www.broseley.org.uk               Email: steve@broseley.org.uk
Programme for first half of 2001:
Wednesday 7th March:           Broad Glass Production in East Shropshire by Paul Luter.
Wednesday 4th April:             The Writing of Volume X of the Victoria History of Shropshire (Borough of Wenlock) by George Baugh
Wednesday 2nd May:             Visit to Ironbridge Power Station.  Meet 7.30 at the Education Centre (report first to the main gate).  There may be the chance to repair to the Abbey Club afterwards for a drink and chat.   No meeting at the Broseley Social Club.
Wednesday 6th June:              Emigration from the Broseley District to North America by Donald Harris (see article below).   The original talk was cancelled due to the November Floods (see Society web site for photos).   The Annual Wilkinson Lecture: Cultural Influences in the Life of John Wilkinson by Diana Clark will be re-scheduled in the new programme.
Wednesday 4th July:               Walk around Caughley led by Stephen Perry.
7:30 at the weighbridge - Caughley.  (Take the left turn opposite Dean Farm on the Broseley-Bridgnorth Road, by the sign for Parkhill Estates. The weighbridge is on the left about ½ mile up the single track road)
No August meeting.
For further information, contact Neil Clarke (01952 504135)
<![if !supportEmptyParas]> <![endif]>
Other local events.
17th March: Friends of.  North Telford Coalfield History Day 10am to 4.30pm at Ketley Bank Community Centre.   £7.50p in advance to Shropshire Records and Research, Castle Gates, Shrewsbury, SY1 2AQ from where further details may be obtained.
30th March: Talk by Barrie Trinder 'Daily Life in Shropshire 1660 to 1760' at Alice Munn's Rooms, Gravel Hill, Ludlow.  Tickets £2 apply to Mrs Sharpe, 73 Lower Corve Street, Ludlow, Shropshire SY 8 1DU.
31st March: Memories for the Future.   Wrekin Local Studies Forum open day 10am to 4pm at New College, Wellington.   Contact Madeley Library on 01952 586575 or wlsf@library.madeley.org.uk for further details.
<![if !supportEmptyParas]> <![endif]>
Emigration from East Shropshire to North America
<![if !supportEmptyParas]> <![endif]>
<![if !vml]>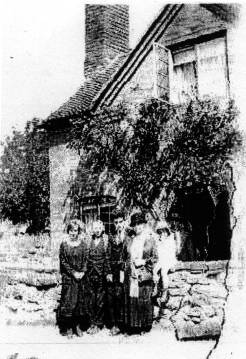 <![endif]>
I am compiling a catalogue of Shropshire emigrants to Canada and the USA up to 1914.  It already contains a thousand names and where I can do no more, I shall deposit it in the Shropshire Records and Research Centre.  One of the many people from the USA who have been generous with their help is Ms Regina Pastore of New York, who wants to know more of her Shropshire ancestors.  Are any members of the Society able to help her?
<![if !supportEmptyParas]> <![endif]>
Her great-great-grandfather was Charles Shaw born Benthall 1790, died Benthall 1835.  He married Catherine Badham of Birmingham.
His son, her great-grandfather, was Thomas Shaw, born Benthall 1831, first a miner and then a tiler-pavior.  He married Mary Ann Morris from Bridgnorth.
His son, Richard Shaw, her grandfather, born Benthall 1867, was also a tiler.  He emigrated to New York City in April 1885.  He later married Emily Jones, who had emigrated from Ruabon.
<![if !supportEmptyParas]> <![endif]>
If anyone could give Ms Pastore any information about the Shaws or local conditions which caused Richard to emigrate, she would be very grateful.  Furthermore, she asks if anyone could identify the house in Broseley, pictured left, where Richard grew up.
<![if !supportEmptyParas]> <![endif]>
Please send any information to me at 15 Grangefields Road, Shrewsbury, SY3 9DD or to Ms Regina Pastore, 52 New Holland Village, Nanuet, New York, 10954.
Donald F Harris.
<![if !supportEmptyParas]> <![endif]>
Design Competition for a new Broseley Logo.
With an entry of about 150, the winners are as follows:
Junior section Joint winners:
              Duane Upton
              Amy Wall
              Joe Kershaw
              Stephanie Kent
Senior section winner:
              George Beck
Adult section Joint winners:
Fran Beck
Ron Davies.
Congratulations to them and to all the entrants.
<![if !supportEmptyParas]> <![endif]>
Severn Valley Line.
Early last year I put a request in the Newsletter for any information regarding the railway at Ironbridge and Broseley Station and more particularly, Jackfield Halt.   As a result, Ron Miles showed me some more fascinating photos and now I have this article written by Society member Betty Caswell, for which we are very grateful.
<![if !supportEmptyParas]> <![endif]>
The Ironbridge / Broseley Railway.
It was during the Second World War that I travelled along the Severn Valley line from Arley to the Ironbridge / Broseley station.   My Father, Sydney Edwards, had elderly parents to visit in Broseley and the only possible way to overcome the problem of travelling into Shropshire from Kidderminster in war-time was to convey the family by car as far as Arley, park it with a teacher friend at the school there, and then cross over the Severn by ferry to await the train coming up the Valley to Shrewsbury.   We were able to travel to Arley relatively easily as my father was secretary of a Land Club. He was given special petrol coupons to enable him to visit farms around Arley to arrange work for Club members. Hence we were able to park in this area and board the steam train.   I cannot remember any definite timetable telling of arrival and departure times just to travel hopefully was the way to go - rather like railway travel today.   After a number of calls at stations en route we eventually reached Ironbridge and then the great trek up to Grandfather's shop in Church Street Broseley began.
<![if !supportEmptyParas]> <![endif]>
I must have been around the age of seven at this time and as my brother Denys was some six years younger than myself this necessitated a pushchair for conveying him and our luggage up the steep route to our destination.   As always we made a call at the Cemetery on the way where lay Uncle Percy and other relatives of the Edwards and Chadwick families. (My father was devoted to his family).   Our respects, duly done, we were free continue along the track from the Cemetery, past the Church and to be welcomed into the bosom of our Father's family before returning to the Station and home again.
<![if !supportEmptyParas]> <![endif]>
Now these returns to await the train coming down the line from Shrewsbury will be forever etched in my memory. It seemed always to be dark, wet and with the wind blowing a gale.   Heaven knows the lateness of the hour but it always seemed to be pitch black at the Station with a minimum of light coming from the madly-swinging hurricane lamp outside the waiting room on the down-platform. Otherwise, everywhere was ghostly pitch, pitch black. Never will I forget the atmosphere engendered.   Inside the waiting room we were huddled around the fire for warmth and seemed to wait an age for the train's constantly late arrival. We had a sputtering gas-mantled light casting a yellow glow over the waiting passengers who looked as tired and fed up as we were.   Occasionally we were treated to a visit from the porter who would dolefully tell us that it was always late coming down the line. The train had to wait for the go-ahead due to the movement of freight coming up the line at night. We were not impressed.   The explosion of activity when that seemingly gigantic steam train did finally come bustling into the station in all its importance, with it's bright firelit engine, is yet another vivid memory from the past.
<![if !supportEmptyParas]> <![endif]>
Goodness knows how often we undertook this wartime journey of parental devotion but has sixty or so years made a vast difference to railway travel in Britain?
Betty Caswell
If the above article prompts any further memories about the railway, please contact Nick Coppin on 884398 or e-mail coppinn@breathemail.net
<![if !supportEmptyParas]> <![endif]>
From the Boulton and Watt Collection via the Janet Butler collection held at the Ironbridge Institute comes this letter from James Watt to his son.
"Luckily or happily, remember Horace's Rule whenever you introduce a Deity dignus ait vindice nodus.  In another letter you say except as before excepted this is a low phrase but bad English and what is called quaint.   By what I have said I mean to make you pay attention to your style and to write naturally without affectation of uncommon words or of witt.   Observe the phrases which are used by good authors and in the cases in which they apply them   But in general in Letterwriting he succeeds best who writes like a correct speaker in common conversation and it is for this reason that women of any tolerable education write more easily than men because they have not such a confusion of words in their head and study less.   
<![if !supportEmptyParas]> <![endif]>
Matt Boulton is gone to Cornwall to his papa, he is become a very modest and sensible lad and applied very close in the counting house while he was here.   Miss Boulton is with Dr Withering's family at Soho.
<![if !supportEmptyParas]> <![endif]>
In your next letter send me the solution of the following problem.   Suppose 3 weights d, e & f to be hung to a string going over the pulleys a & c in the manner represented and suppose the weight (e) to be 20lbs required the weights (d & f) which will keep  it in equilibrium in the position shown by the dimensions ab, bc, & bg and send me also the length of a cylindrical rod of Iron which suspended by one end will make one vibration as a pendulum in 3 seconds & a demonstration why it should be so.   When I write you again I shall send you some other queries
<![if !supportEmptyParas]> <![endif]>
You mentioned that you had made a drawing of  Llangollen Abbey which I expected you would have sent by Mr Wilkinson, I shall be glad to see that and the drawing you made of the furnace first opportunity.  Please advise me how the cash which I left for your use with Mr Turner holds out & send me an account of your expenses both what you spend out of your pocket money and what is laid out in clothes board etc. & in future send me such an account regularly at the end of every month.
<![if !supportEmptyParas]> <![endif]>
Your Mama and family are all well and desire their love to you
<![if !supportEmptyParas]> <![endif]>
Make my complements to Mr and Mrs Turner to Mrs Maitchell Mr Gilpin and Mr Johnson
I remain Dear Jemmy
Your affectionate father
James Watt."
<![if !supportEmptyParas]> <![endif]>
c.1784
transcription by David Lake
<![if !supportEmptyParas]> <![endif]>
Request for Information.
Richard Smith of the Broseley Tennis Club would like help with information and photographs of the club over the years.  If you can help Richard lives at 15 Legges Hill, Broseley Wood - Email: tennistf12@freeuk.com
<![if !supportEmptyParas]> <![endif]>