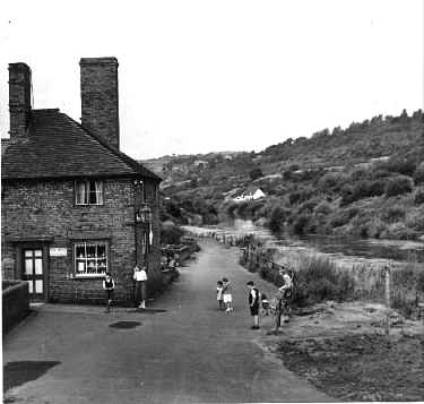 Photo 13th August 1952
Article 14th August 1952
(also 12 July 1968 ?)
Jackfield, the tiny Shropshire village almost cut off from the world since its main road began to slide into the River Severn is doomed. The inhabitants have started to evacuate their homes before the danger of subsidence becomes worse. The post office (left) is to be evacuated before winter comes.
This shows the Jackfield Post office at Salthouses. SD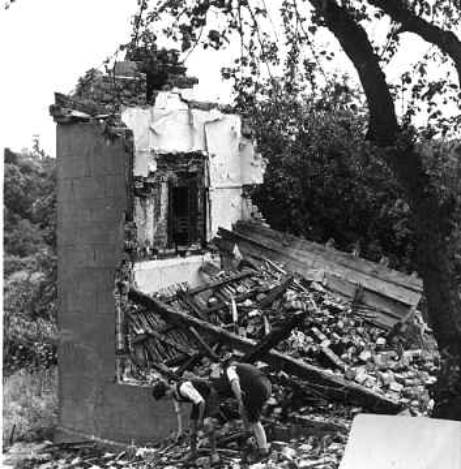 14th August 1952
The occupant of this now derelict house (sic)
This shows Pear Tree cottage being demolished. The two boys in the above picture of the Post Office now appear to be helping to demolish the house ! This appears to be the same house as shown in the 8th April 1952 shot.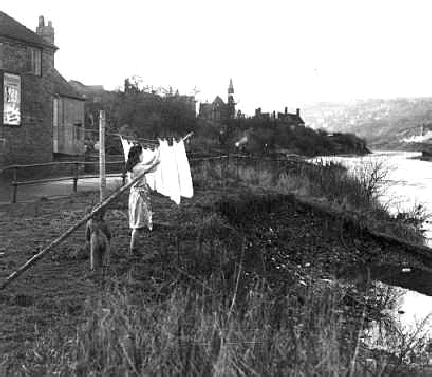 29th December 1952
Despite the slide of top-soil into the River Severn, taking the village of Jackfield with it, life still follows a normal course, and washday is still washday even if your garden is in the river.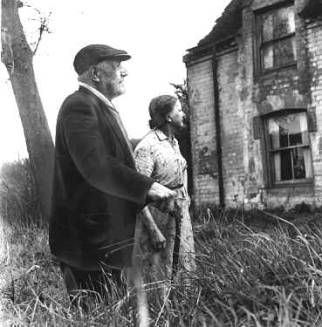 14th April 1964

Caption: Mr. Sam Bradley, 76 and his wife Edith, in the garden of their home in Jackfield.

Article:
The steady-but-sure death and disintegration of a Shropshire village has angered its dwindling residents.

Furious at having been led up the garden path, one woman villager at Jackfield, near Ironbridge, declared: Im thinking of writing to the. Prime Minister about it.
And another, a publicans wife, said bluntly: Instead of a dozen or perhaps two dozen customers in the evening, I get about six. Its not worth the fighting.
Mrs. Ivy Downing, who with her husband, Ellis, keeps a general store in Ferry-road, sat in the lounge of their home behind their shop,
The couple sank their savings into the business when they opened up in Lower Jackfield nearly six years ago.
"We settled on Jackfield because we thought it was quite a decent proposition; which, of course, it was.
We didnt know anything about he village, so we had a solicitor make inquiries.


Part of Article by Keith Parker.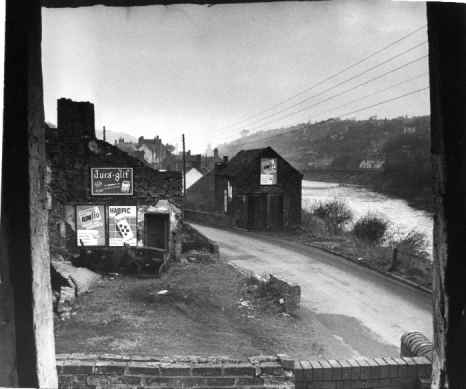 Photo 8th February 1965 Article 9th February 1965

A relic of the Industrial Revolution- thats Jackfield. Deserted , crumbling cottages are nearly all that remains of a once proud village.
Subsidence has formed the buildings into crazy shapes.


This has been caused by the River Severn which flows cheek by jowl with the village.


The Severn Gorge has been designated a special amenity area by the Dawley Development Corporation and the whole valley is to be given a face lift.